Panel houses
Panel houses are a new generation technology for modern people, which, due to its advantages, is used in the Scandinavian countries, changing the usual construction of houses in modern Western countries and rapidly gaining popularity in Lithuania. 
You no longer need to wait great amounts of time for your dream house to be constructed – after the approval of a standard size project, the production of panel house elements usually takes approximately 4 weeks, and the assembly of such elements after the preparation of the land plot and foundation – takes only approximately a dozen days, since modern manufacturing technologies are in use. This allows us to not only accurately schedule the construction work, but also to reduce the cost of construction materials. 
It is the precise time and cost planning, that allows you to save money and distribute your costs more effectively and efficiently when creating your modern and eco-friendly home.
The main advantages of panel houses
Durability
Prefabricated panel houses are a dozen times less permeable by air. Reduced humidity, sound vibration, and dust penetration ensure durability and longevity of construction.
Time
The prefabricated house production process is almost not affected by weather conditions, and the use of modern technologies ensures efficiency and speed.
Economy
Modern factory technology allows the construction process to be planned precisely in terms of cost and time. This reduces the use of building materials and manpower to the minimum necessary, and subsequently the tightness of the home and high thermal resistance also significantly reduces heating bills.
Ecology
The process of construction of panel houses is much more efficient due to the time, accurate use of building materials and planning capabilities. This not only significantly reduces costs but also contributes to nature conservation.

Structure of panel houses
We produce prefabricated house elements from high quality specially prepared wood, which is cut according to individual design. Subsequent production of house elements varies depending on the purpose – due to the different effects of temperature, humidity, sound on the interior and exterior walls and roof of the house, the materials are manufactured with different materials ensuring quality and durability, resistant to changing weather conditions, sound and vibration. Exterior wall finishes are available on request or as standard siding.
The outer wall


Exterior walls, on their backside, have a film, which is a vapor barrier layer; an additional 45×45 carcass is mounted; a 50 cm of cotton wool is inserted, and 12 mm and 12,5 mm thick OSB-3 drywall is installed.
After turning the panel, anti-wind plates are attached on the panel's exterior side and an anti-wind film is installed, providing tightness.
After the completion of the above-mentioned work, 28×45 mm beams are used to form an air barrier and after that the outer finishing elements are installed: dyed wooden paneling with a rough or planed syrface, or any other finishing according to the request of the client.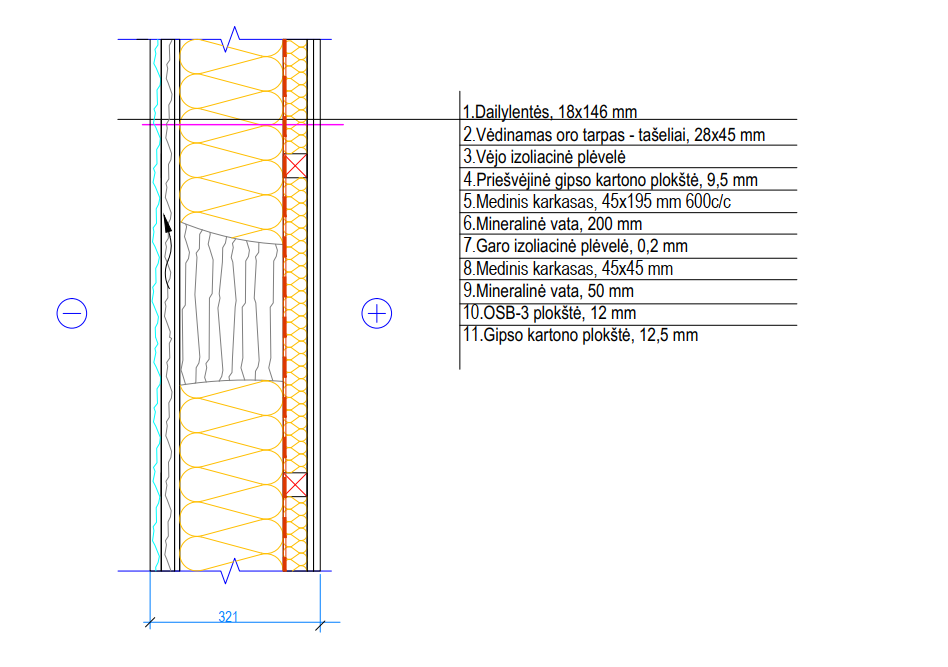 Overlay


The carcass is installed from mineral wool and then OSB-3 22 mm is installed.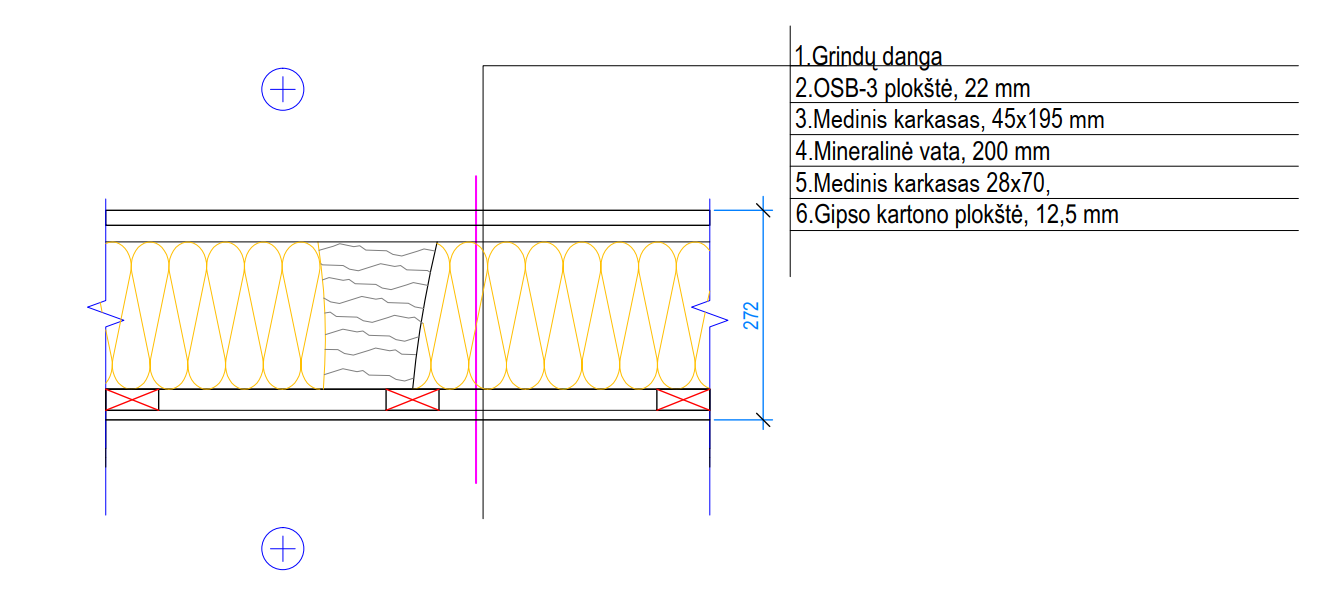 Roof


Rafters are cut according to the production drawings, from which the panel element is mounted; cotton wool is then added.
Diffusion film is installed from the exterior side, ventilation beams and laths are then installed.
A vapor insulation film is installed from the inside size and beams, that hold the gypsum after the installation of the house, are installed.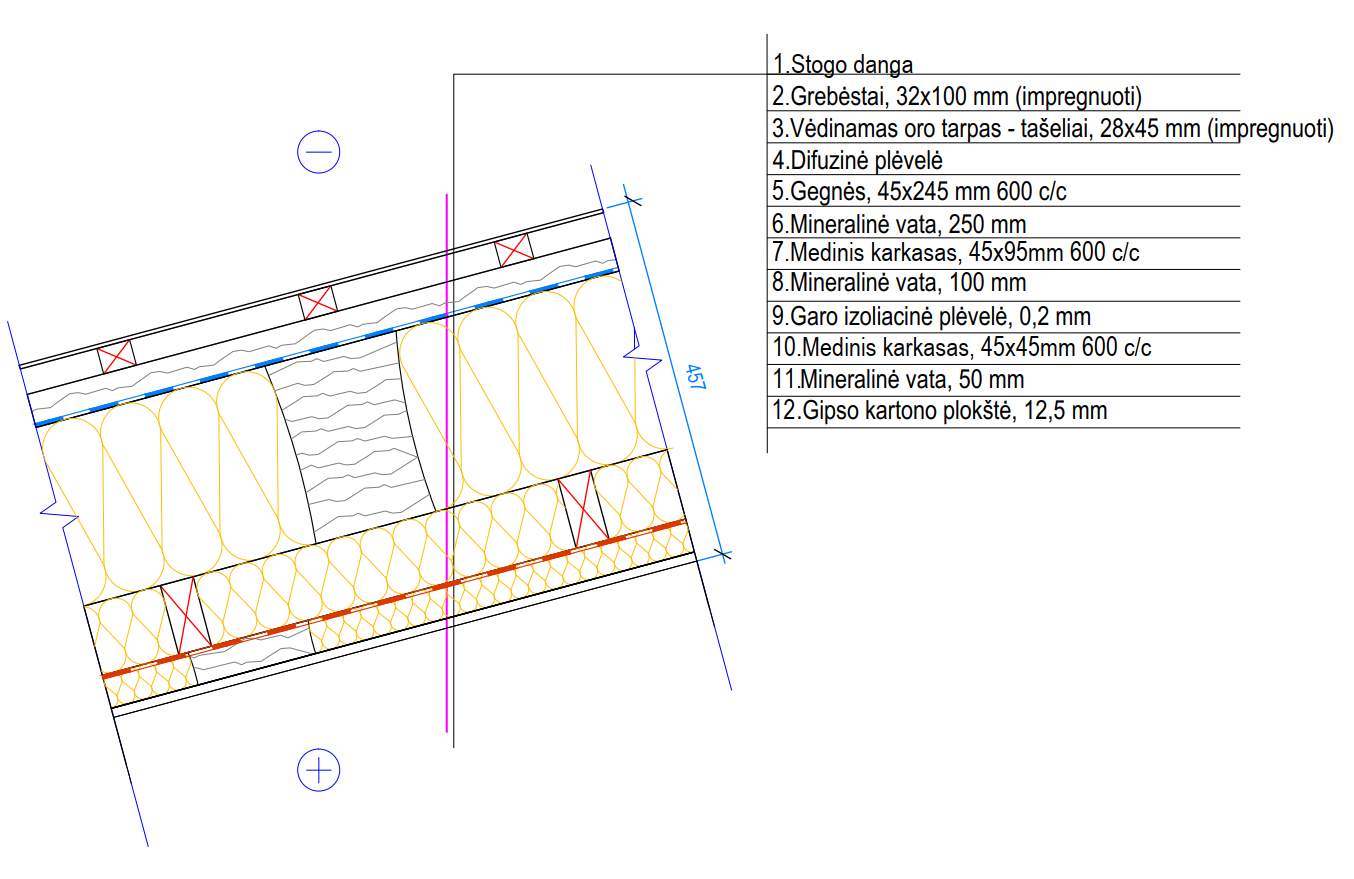 Internal wall (supporting)


A carcass is installed; mineral wool is added and then OSB-3 12 mm and 12.5 mm drywall panels are installed.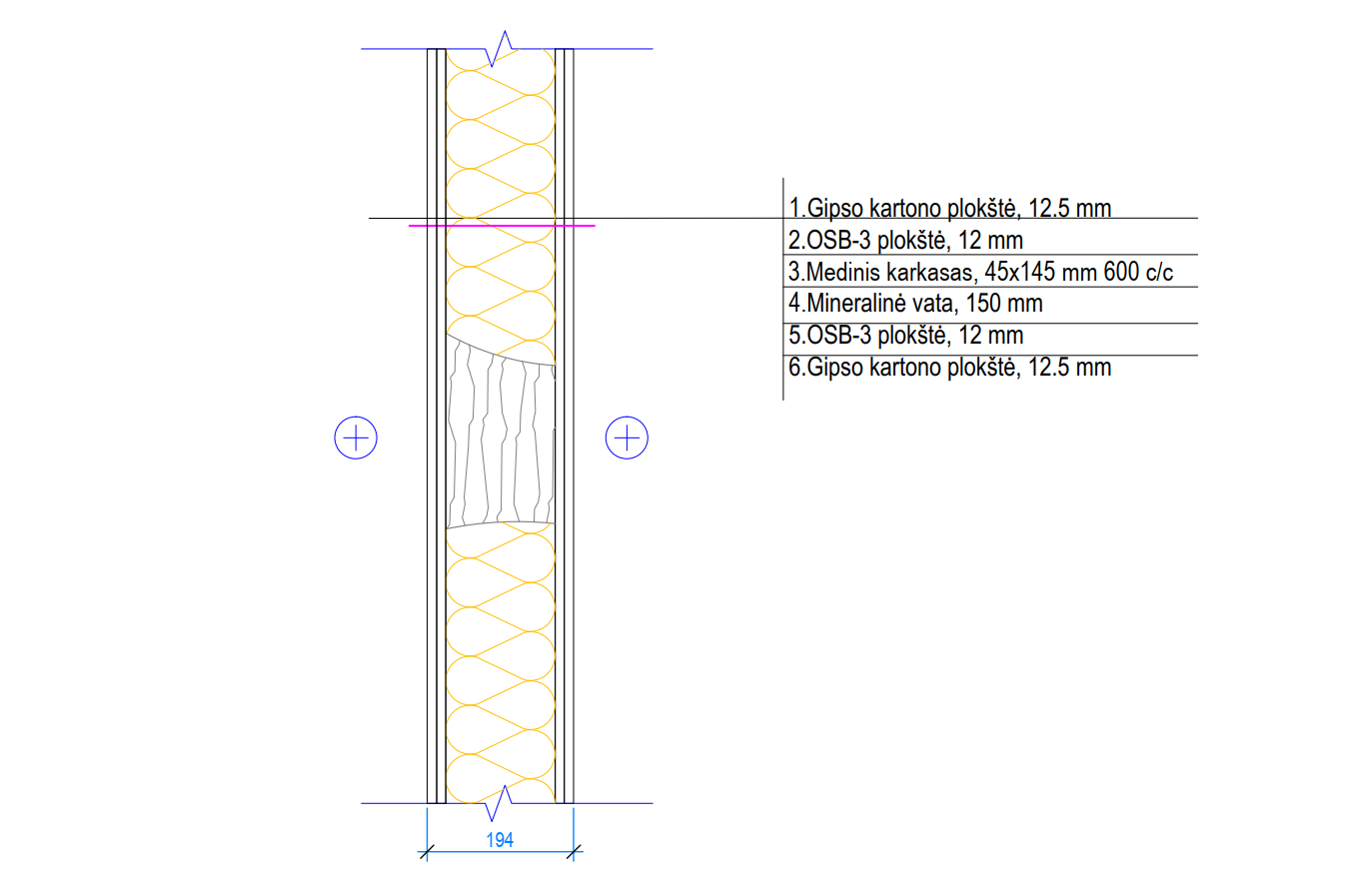 Internal wall (not supporting)